The Edmonton Arena District is a hot topic right now.
Dare we say even hotter than the closure of the Municipal Airport (which by the way we are completely stoked about—awesome job Councillors!)
Let the evolution begin.
That's right. Everyone at Urban Jungle and virtually everyone we've talked to, support the closure of the Muni, and now support the development of the Edmonton Arena District. 100%. We see the vision. We want it to happen. We want to be a part of it. Now it's just a matter of City Council getting it done. Why do we support it? Let us count the ways.
The current situation is broken.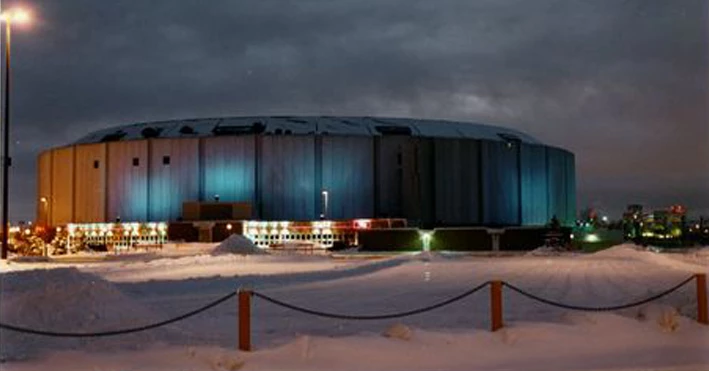 If we look at the existing situation and location with Northlands and Rexall Place, be it Oilers games, concerts, exhibitions, rodeos, shows, etc.—it's broken.
What makes it broken? Because we say it's broken.
Northlands clearly doesn't think (or care) that Edmontonians think the situation is broken. There are also politicians and business owners out there choc full of ulterior motives and conflicted interests who will preach to us it isn't broken.
But all it takes is a quick look at some of the incredibly daft, narrow-minded comments on the various blogs out there and you'll soon see it doesn't matter how broken this situation is, some haters (you know who you are), attempt to knock others down with negative comments and say, "I don't think it's broken fool…and here's why…"
News flash haters—we don't care if you don't think it's broken. If we think it's broken, it's broken. If Joe thinks it's broken, it's broken. If Sarah thinks it's broken, it's broken. If anyone thinks it's broken, it's broken.
Who out there can honestly say they love having to race home after work, feed the kids, then race to Rexall, hoof it for five blocks in subzero temperatures through the dumpiest part of the city; all just to watch mediocre at best hockey, whilst forking over way too much money for shitty beer and worse food; then hoof it for back to the unheated car again, beat the rush, and finally race back home?
No one. That's who. But we do it anyway. What we have here is one of the worst brand experiences in the entertainment industry and it's amazing to see what Edmontonians will put up with just to be entertained (kinda sad actually).
It makes me wonder how positive and successful the situation could be if the entertainment experience in this city was fun? Warm? Easy?
Taking this one step further, I wonder what it would be like if the downtown core was more exciting? More beautiful? More desirable to live in and be around?
The bottom line is the Edmonton Arena District solves more problems than it creates.
The evidence? (There's lots of it.)
Read some of the blogs out there. Councillor Iveson's is a great place to start. Some people choose to look at the information, a.k.a. the "evidence," and good on them for doing it (someone's got to). While evidence is important, it's not what Edmontonians are interested in. Evidence is what lawyers and accountants are being paid to come up with on both sides to rationalize their decisions and to persuade with in their pitches. We're not interested in commenting on the evidence of either side, which is why we choose not to write about it.
Rationale is not enough.
Edmontonians don't have time for information. We eat on the run, we drive our kids to soccer and dance practice, we work, we workout, we do it all. We do not have the time, nor do we really care to be convinced that what happened in X city and at X arena intellectually was the wrong decision. We don't care because it has no relevance to us. We are emotional beings and therefore, information isn't a competitive advantage like it used to be. I'd also like to think that both the Katz Group and Edmonton City Council are smart enough to learn from the past mistakes of others.

For some reason, people keep bringing the conversation back to the Edmonton Oilers; and more specifically, the taxpayers funding a billionaire's hockey team. This isn't about the Oilers. If it were, I wouldn't have bothered weighing in on this topic in the first place (I give zero effs about the Oilers). What I DO care about is Edmonton.
The Arena District is much bigger than the Oilers.
This is about the evolution of Edmonton as a city. It's about rebuilding a downtown core. One we all can be proud of. In Katz's defence, why should he have to foot the entire bill for a facility his team only plays in a small fraction of the year? Of course he should pay some, but if the City/Province/Nation decides to make a serious push for Expo2017, this is a facility we would have to build anyway. The only difference is now we can potentially get it for 50% off. A 50:50 partnership seems fair doesn't it?
Why a partnership?
Because a partnership is the only way this idea will work. Partnerships create accountability. Molson failed in the development of Montreal's arena partly because there was no incentive for the city to make it work. The same goes for the cities that were 100% responsible for building their arenas. There was no vested interest of the teams' owners. Some people call this proposal "too risky." Yes technically it's a risk, but given the current state of Rexall Place I think it's a bigger risk for City Council not to pull the trigger on this deal. As a true 50:50 partnership, both sides will make it work because they have to, thus mitigating the risk.
We don't know how lucky we are.
I think we should consider ourselves pretty fortunate to have a hometown boy who actually gives a damn about investing in Edmonton and evolving this wasteland of mediocrity into an amazing place that everyone will talk about, appreciate, and reap the rewards from for generations to come—not many other cities have this luxury.
Kudos to the Katz Group. Kudos for taking a bashing like they do and still caring about Edmonton. Their hearts seem to be in the right place and we should respect them for it. Kudos for having a vision. Their vision is what has—and will continue to inspire us. As for those who feel a sense of entitlement? Shame on you. You act as if Katz owes us something. Grow up and get real—he doesn't owe us a damn thing. He is a businessman who owns a team that many Edmontonians happen to care about. At the end of the day, the haters and naysayers need to be reminded he has the right to do whatever he wants with this team—just as any business owner does with their business. Katz has done a lot of good for Edmonton but it still doesn't seem to be enough. There's always someone ready to pounce on him for not doing more.
If you're anything like me you want more for our city. Wouldn't it be nice if when people heard of Edmonton their first thought wasn't "The Mall?" Wouldn't it be nice if when people asked you, "Why the heck do you live in Edmonton?!" you would have more reasons to give them than, "because my family lives here" (I know I do).
Edmonton is technically a business.
And part of any successful business is caring about your customers and creating experiences they love and are proud of.
The Edmonton Arena District (in it's proposed location) is the catalyst to creating a critically contagious pulse in this city. A pulse big enough to give us not only a minute shot at winning Expo2017, but a chance at becoming a creative and intellectual mecca.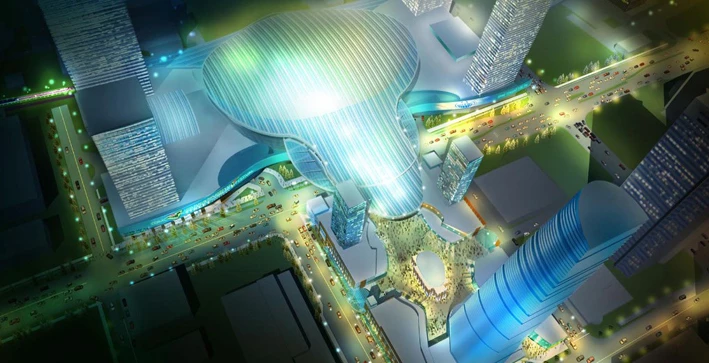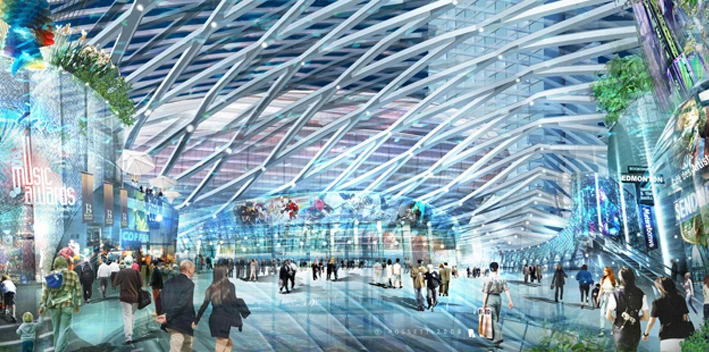 We are in the beginnings of what could be one of the most profound times in Edmonton's history. We are re-establishing our city. This is the age of Edmonton's self re-discovery.
The sleeping giant is waking up and everyone at Urban Jungle is stoked to live here and be a part of it.